That's right, its up at 5 million Dirhams (US$ 1,366,120). This is so far the highest public asking price for a domain name of this kind, with a first of it's kind superior public exposure by advertising the name in the UAE daily "Business 24/7" dated July 22, 2009. A full page ad titled "Premium domain name for passionate Horse lovers" and a clean website landing page that has an Arabic voice conveying the same, which leads to a thought that the seller is targeting rich local Emarati horse lovers.
About the seller: the whois shows Abdul Musavir Abdul Kader and further research shows Abdul Musavir, OZONE GROUP, INDIA as the seller and the domain name looks to be registered before August 2008 (that's when aeDA came into the market).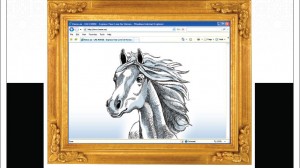 From my long experience with the .ae's, this domain name might not fetch the asking price, but due to the nature of the advertising, the name itself and the population's mentality of owning cool and "VIP" names and plate number might even lead to a sale.
Keep in mind that the UAE is known for its royal and world's richest horse race competition and the rural of Dubai is said to own a huge horse training facility somewhere in the most royal location of England.
The ad mentions July 26 as the date of sale finalizing and we keep monitoring the whois in case of name changes which would mean a sale.