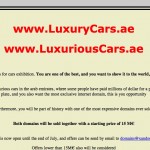 After reading an article in the UAE daily's Gulfnews.com, we have stumbled upon an article written by the staff reporter Naushad K. Cherrayil about the sale offering for 2 domain names: luxurycars.ae and luxuriouscars.ae with an asking price of 15M Euro!!!
We have all heard about the sale of horse.ae a few years back for ~6M Dirhams which is also under question as the many factors and internet critics do not trust the trustworthiness of the sale.
We can believe in Horse.ae which has a cultural meaning to this part of the world to go off the shelve for 6M but somebody looking 15M Euro (72M Dirhams!!) makes no sense whatsoever!
After visiting the auction website at http://www.xandomain.com/ we can see that the seller offers 100k Euro for those who will help with the domain name sale. Maybe that's why the reporter of Gulfnews published this article!
The article can be found here: http://gulfnews.com/business/automotives/expensive-domain-names-for-sale-1.1049347
What can we say, good luck to the buyer (yes not the seller 🙂 )